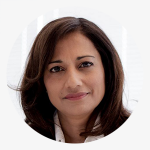 CEO/Founder of Progressing Minds. Executive Advisor.
Doctorate in Clinical & Forensic Psychology from the University of Surrey, UK and Master Negotiator from HNI at Harvard Law School.
Nashater is an entrepreneurial executive with over 25 years of leadership experience in diverse, complex organisations across industries (Government UK & Norway, Corporate, Private & Public Health, Oil & Gas) and including building own businesses. She is the founder
of PIN® «Persuasion, Influence & Negotiation»  for businesses and leadership teams. Nashater has a strong reputation as a
proactive Organisation & Leadership Development consultant with proven effectiveness in developing desired cultures in cross-functional & international environs. With her psychological and negotiation expertise, she has a long track record as an impactful negotiator and conflict mediator.
We know business from the inside